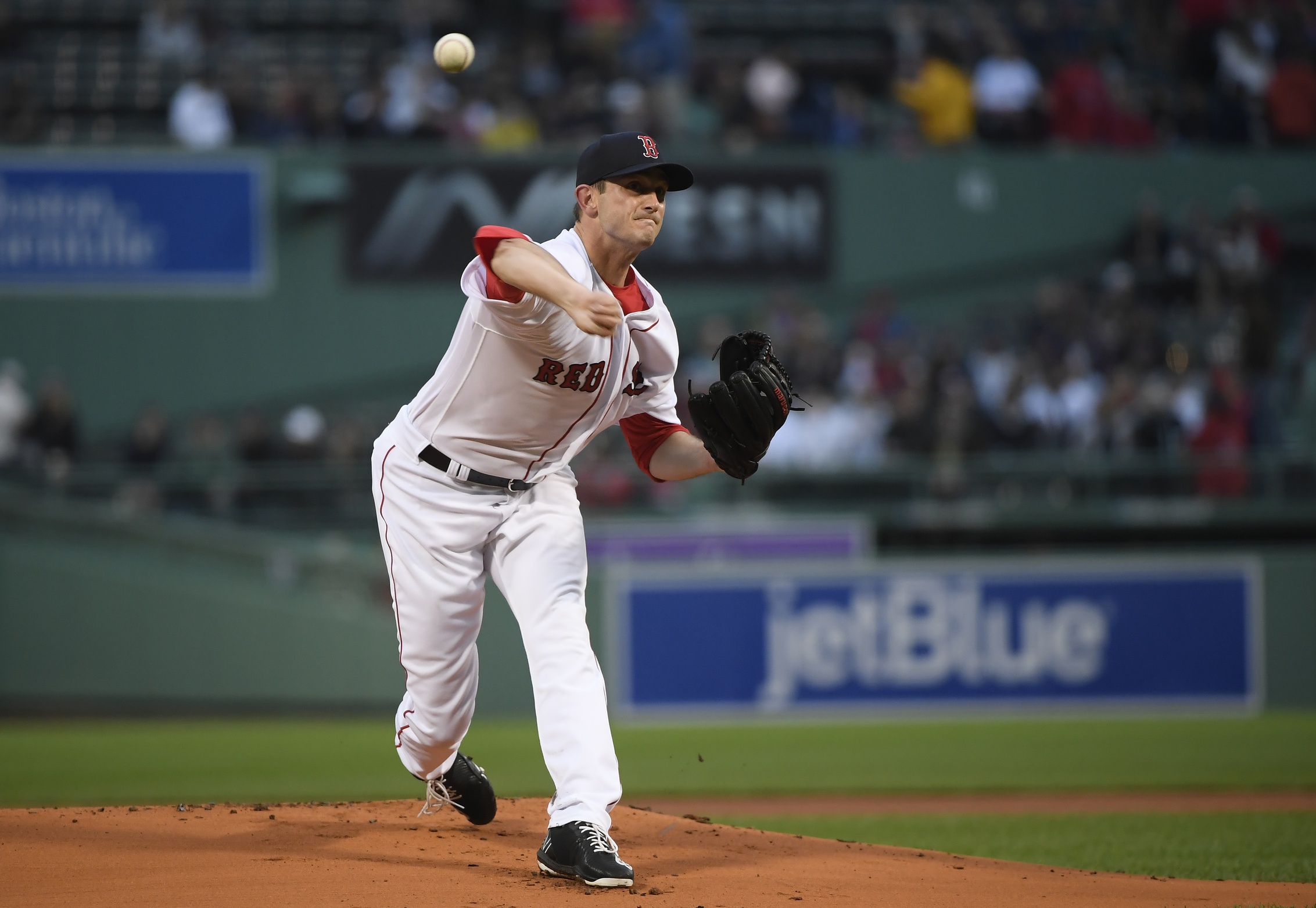 A few thoughts on the games from Wednesday's games:
FOR STARTERS
Wednesday's Starters
Sorted by ERA
Dillon Peters is up 2 mph, but also pitching shortened outings so I'm not sure if it'd hold if he was trusted as more of a standard starter. Additionally, the 4-point jump in K% to 24% has come with a 1-point dip in SwStr at 11%. An 11% rate can sustain to 24% K%, but I'm not sure we're seeing enough to really believe in the 29-year-old lefty.
Michael Pineda has been the run of the mill streamer we expect and I imagine he will continue to be, netting something in the 3.75-4.50 ERA range and decent enough WHIP because he doesn't walk guys. He is n't missing bats, though, which does curb his appeal even in leagues where such a deep streamer would be useful.
Alex Faedo survived his MLB debut and has more upside than we saw in this outing. His career has been stifled by injuries to this point. He has a swing-and-miss slider that would definitely start to generate some Ks as he gets his jogging from him. This might have just been a spot start for the doubleheader, but they have another doubleheader next Tuesday v. OAK so Faedo should get another look. please Beau Brieske over him in terms of deep league pickups
the mad bum thing was super weird. I rarely agree with him being a hardo, but I'd have been through the roof on that, too. What on earth was Dan Bellino doing?!?!
Elieser Hernandez was blasted again we have to wonder if the clock is ticking on its time in the rotation. Braxton Garrett and Edward Cabrera are on the 40-man and at Triple-A. Cody Poteet is in the bullpen and can start. Max Mayer is the alluring option and while he isn't on the 40, they do have an open spot.
Ian Anderson only allowed 1 ER, but the 4 BB and 1 K spoil the outing a bit in terms of being excited about the future. There is still a ton of upside with the 24-year-old righty, but the consistent walks will breed volatility as he figures it out.
Tylor Megill caught an L, but the 9 Ks soften the blow big time. No worries here.
I was really surprised that Mike Clevinger was given 95 pitches in his debut season at the MLB level, especially after just 67 in his last Triple-A outing. He had a 33-pitch 3rd inning and while he did rebound with just 12 in the 4th, it shocked me that he was back out for the 5th. They know their guy better than me, of course.
Zach Plesac is just a streamer right now and he does get a 2-step next week, but I'm not sure I want an at CWS/at MIN setup. He isn't missing any bats (9% SwStr, 14% K) making him a really tough bet.
Cal Quantrill is a wizard! I don't know how he has a 3.54 ERA with his 2% K-BB rate through 28 IP. He has an uncharacteristic 13% BB rate while his K rate is down 5 points off his career level at 15%. He is in the Plesac level of streamer right now despite the better ERA.
MacKenzie Gore got the start for the doubleheader, but with Clevinger back and Blake Snell on the horizon, there just isn't room for him right now. Hold him where you can because the value is high when he's in the majors, but it could be some time before he is consistently starting again.
Adam Wainwright's WHIP (1.29) might not get back down to last year's 1.06, but he remains a steady, easy start even at age-40. What a legend!
I really hope Corey Kluber stays healthy because he has been excellent: 2.36 ERA, 1.05 WHIP, 18% K-BB, and 13% SwStr in 26.7 IP. He got at LAA and v. TOR next week, which is a tough slate, but he's an auto start while healthy.
Frankie Montas looked great, too! I know many believe he'd look great on a new team, too, but OAK won't rush to trade him since they have him under team control through next season so they will wait for their best deal.
I don't believe in Martín Pérez, at least not as a low-2.00s ERA (2.25 in 28 IP). His skills from him are essentially the same as last year (12% K-BB last year; 10% this year) when he had a 4.74 ERA in 114 IP. The regression could be Bundy-esque, so be very careful.
There's the Zack Wheeler we want! This was 2021 level Wheeler with the best SwStr of the day at 21% and 2nd-best CSW rate at 35% in total domination of the Rangers. I don't care that it was an easier opponent. He didn't have a Spring Training so he's been building up on the job and I'll take the super-gem regardless of who it's against!
Speaking of that regression, Dylan Bundy was ripped for 9 ER, giving him 15 ER in his last two starts and completely erasing the 15.3 IP with 1 ER in his first three starts. This is the danger in trusting guys who live on a tight margin. This an extreme but useful example of why underlying metrics are so important with a surprise ERA.
I'm sure what he did, but I'm damn near certain that Yusei Kikuchi pissed off the schedule makers this year. He has opened at NYY, at BOS, at HOU, v. HOU, and v. NYY. The schedule can't be blamed for there of his early-season struggles (5.52 ERA thru 1st 4 starts), but it certainly doesn't help. A gem against the Yankees is great to see here, but he gets them AGAIN next week in the Bronx!!
I know some people were annoyed that Nestor Cortes only went 4 despite 83 pitches, but he had a 31-pitch 3rd and walked someone in every inning. His peak of him is 91 pitches this season and it made sense to me for NYY to pull him.
Let's hope the Red Sox keep Garrett Whitlock in the rotation. That is where he is best utilized and gives them the most value. He is still available in 25% of Y! and ESPN leagues somehow. Check your wire! He is a must-roster in all formats.
Reid Detmers just isn't where he needs to be for the MLB level and I'm not sure the Angels, who fancy themselves contenders, can continue to ride with the 22-year-old lefty. There could be a demotion coming. He had 8 IPs at Triple-A.
Speaking of incoming demotion, I don't see Matt Brash remains in the majors much longer. The command simply isn't there to sustain him in the league. I've skipped Triple-A so this isn't terribly surprising. I'm still holding in dynasty formats and perhaps even buying if I'm a rebuilding squad, but it's just not there yet.
Kyle Hendricks gets a 2-step next week at SD and at ARI and it's a toss-up stream for me. I'm just not sure the upside is there to go for it. His 2-point jump in SwStr to 11% isn't netting anymore Ks (17% K rate). He's too hittable and allowing too many HRs which leaves him living on a wire.
Freddy Peralta's command still isn't there, but the offense supported him enough to make it work. He allowed 2 in the first and they got them right back before adding 4 in the third and giving him some breathing room. There's nothing actionable here because even with the wonky command, you're not sitting him anywhere. This is just the volatility that below average command yields.
Well, that was a strong complete game for Patrick Corbin! He allowed five runs in all, but only three earned runs. It is pretty tough to go 8 innings have a GameScore 1 point north of the starting point (51). He gets a 2-step against NYM and HOU next week. Godspeed if you take that plunge, friend!
Alex Wood wasn't great for a second straight start, but I'll take 5.3 IP/3 ER/7 Ks at the Dodgers. I have a little concern about his HR rate for him back up at 1.5 as it has spiked before during injury-riddled seasons (2.4 HR / 9 in 48.3 IP during 2019-20). I'm not benching him, though. Just keeping an eye on him and hoping he can stay healthy for another 100-110 innings.
Tony Gonsolin is a five-and-dive right which really tightens up his margin for error. He has a season-high of just 83 pitches and was out after 65 on Wednesday. I am encouraged by a second straight start with just 1 BB and his 14% SwStr from him could bring more strikeouts down the line. This is still a hold profile in most formats, especially with a 2-step next week (at PIT, v. PHI).
A ROWDY TIME IN MILWAUKEE
Rowdy Tellez smashed 2 HR in the 18-run barrage the Brewers put up on Wednesday. The sweet-swinging lefty first baseman now has 7 HRs on the season with a .267/.337/.613 line in 83 PA. He has started the last six games, including one against a lefty starter and he has started against each of the last two lefties. With Mike Brosseau Sent out, there isn't a clear platoon and there's also the fact that Tellez hasn't shown any real weakness against lefties that would require a platoon anyway. I see 30-HR upside here with a strong AVG and plenty of R/RBI in Milwaukee.
He is widely available (15% Y!, 10% ESPN) and should be rostered in a lot more leagues after 3 HR and 9 RBI in 2 games against Cincy. He had a .231/.315/.477 line with 4 HR (29 HR pace) before this, though, so it's not like these two games are the only damage he has done. Some highly rostered 1B I'd cut Tellez for in shallow leagues include Joey Votto, yuli gurrieland Ryan Mountcastle. I'm not averse to doing it for Jared Walshbut I'm not really worried about Walsh and feel like he has a heater coming up.
COMBO MEALS
Shoutout to ESPN's Fantasy Focus podcast for coming up with the "combo meal" term when guys get a HR and SB in the same game. Here are the weekend (Fri-Sun) combo meals:
Manny Machado (5th HR, 5th SB) – He is out of his mind so far! He has a .365/.436/.594 line with 18 RBI, 23 R, and the 5 HR/SB. What a start!!
REMARKABLE CALLUPS
John Yepez, 1B/OF | STL – I became a huge fan of Yepez after seeing him at the Arizona Fall League, but there was just no room for him in the majors. Even with the addition of the DH, there still isn't a clear path because Albert Pujols and Corey Dickerson are running a platoon there. So while I am a fan of Yepez, I'm still not sure where the time comes from unless they send Dylan Carlson down or clear DH for him.
WTWT
Here is What To Watch Today for Tuesday, April 12th: