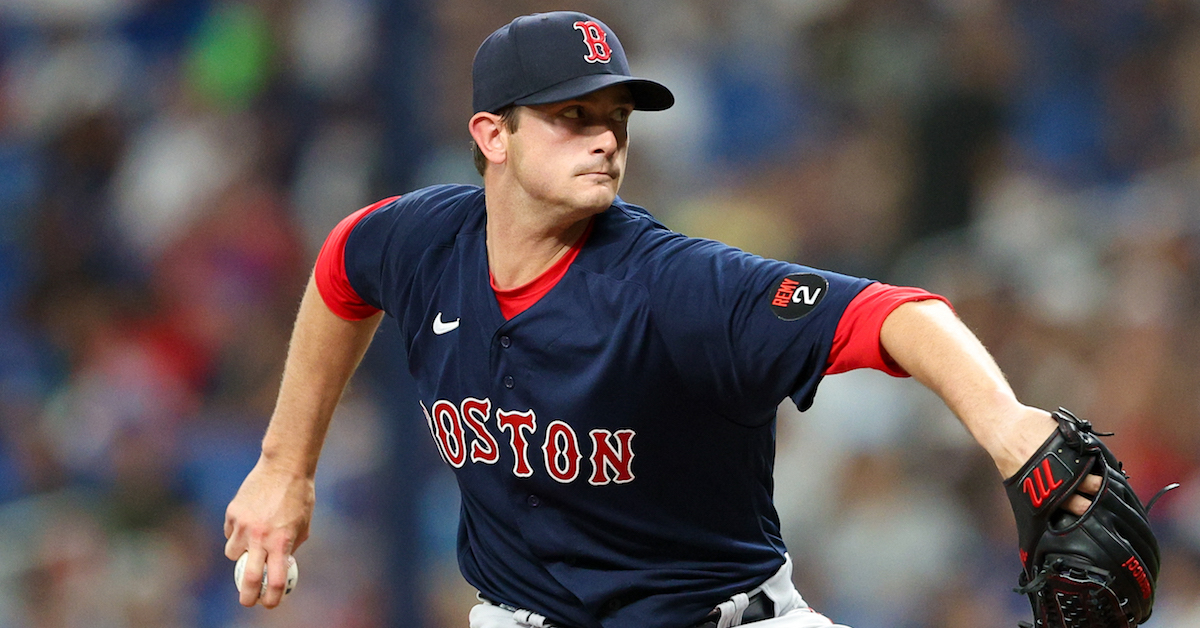 When the Red Sox traveled to Toronto in late April, they had to shuffle their roster around to comply with Canada's vaccination entry requirements. The biggest impact was felt in their starting rotation, as Tanner Houck had to be placed on the restricted list due to his vaccination status. In his stead, Boston turned to Garrett Whitlock to make a start against the Blue Jays. It was actually Whitlock's second start of the season; he had made a spot start for Rich Hill the week prior and made a third start yesterday against the Angels. In those three starts, he's allowed just three runs while striking out 18 batters in 12 innings.
Whitlock's first start in the major leagues was fantastic. He held the Rays to just a single hit in four innings while striking out seven. It took him just 48 pitches to carve through Tampa Bay's lineup. In Toronto, he wasn't as dominant, giving up one unearned run on four hits and two walks. He ended up working through just three innings, but threw 61 pitches, the most he's thrown in a single game in the big leagues. Against the Angels, he struck out nine batters and allowed two hits including a two-run home run by Max Stassi. He was stretched out to 78 pitches on Wednesday evening and completed a strong five innings.
It's a fascinating role change for Whitlock, who was arguably Boston's best reliever in 2021. Last year, he put up a 1.96 ERA and a 2.84 FIP in 46 appearances out of the 'pen with a phenomenal 4.76 strikeout-to-walk ratio. His success from him was all the most impressive given his path to the majors. Tommy John surgery and the canceled minor league season in 2020 had kept the former Yankees prospect off the mound since July of '19. Because he was still rehabbing from his injury from the previous year, New York left him off their 40-man roster after the 2020 season in the hopes that he could sneak through without a recent scouting look, but Boston selected him in the Rule 5 draft . The Red Sox took a chance on his skills and minor league track record and found a gem.
Whitlock started off as a multi-inning relief option last year, but was quickly moved into a high-leverage role, shutting down lineups over a couple of innings towards the end of close games. He wound up leading the Red Sox bullpen with 1.6 WAR and 2.15 WPA. The average leverage index when he entered a game was the fourth highest on the club. Boston recognized the value he brought to the team and signed him to a four-year extension in early April. The contract begins next year and will run through all of his arbitration years, with two club options potentially covering his first two years of free agency. Including escalators and buyouts, the contract could be worth up to $44.5 million over six years.
Though there was some talk of pushing him into the rotation this spring, he opened the year in the same fireman role as last season. A regular starter during his minor league career, Whitlock's ability to go multiple innings out of the 'pen made him an easy choice to shift to the rotation when the need arose. What's been most impressive is his ability (thus far) to carry over his strong performance in relief into longer outings out of the rotation. He's struck out nearly 40% of the batters he's faced as a starter, and that's including his outing from him in Toronto where he struck out just two. That's entirely due to his dominant repertoire, which features one of the best sliders in the game.
Last year, he threw his breaking ball just 16.5% of the time, though it produced some excellent results. Batters swung and missed 39.2% of the time they offered at the pitch and he allowed just a .334 expected wOBA on contact when they put it in play. He's made some tweaks to the pitch to make it even more effective this year. Whitlock is throwing it a tick and half slower but has added five and half inches of drop to the pitch. He it's breaking a little less horizontally too, which means the pitch's total movement has improved by less than an inch. The spin deviation on the pitch has also increased, and given the loss of velocity and the unchanged active spin rate, that additional movement likely points to greater seam-shifted wake effects on the pitch. Those tweaks seem to have been enough to take the results into the stratosphere. The whiff rate on his slider has jumped up to 57.1%, the second highest rate among all sliders thrown at least 50 times this year.
Whitlock's changeup has also looked a little different this year. He's added nearly three inches of arm-side break to his slow ball differential to go along with its elite 12 mph velocity. And while his other secondary offering of him is n't as potent as his breaking ball, it's an important piece of his repertoire that keeps left-handed batters at bay while inducing tons of weak contact. Last year, opponents managed just 10 hits off the pitch and a .305 expected wOBA on contact; that mark is down to .227 this season.
While his two secondary pitches are fantastic, each used for very different purposes, it's his sinker that's the workhorse of his arsenal. He throws it more than half the time and it's one of the best in the majors. With more horizontal movement than vertical movement, it's an extremely difficult pitch to square up. At 95 mph, it's also one of the hardest thrown sinkers in baseball. His velocity from him hasn't dipped in his longer outings either.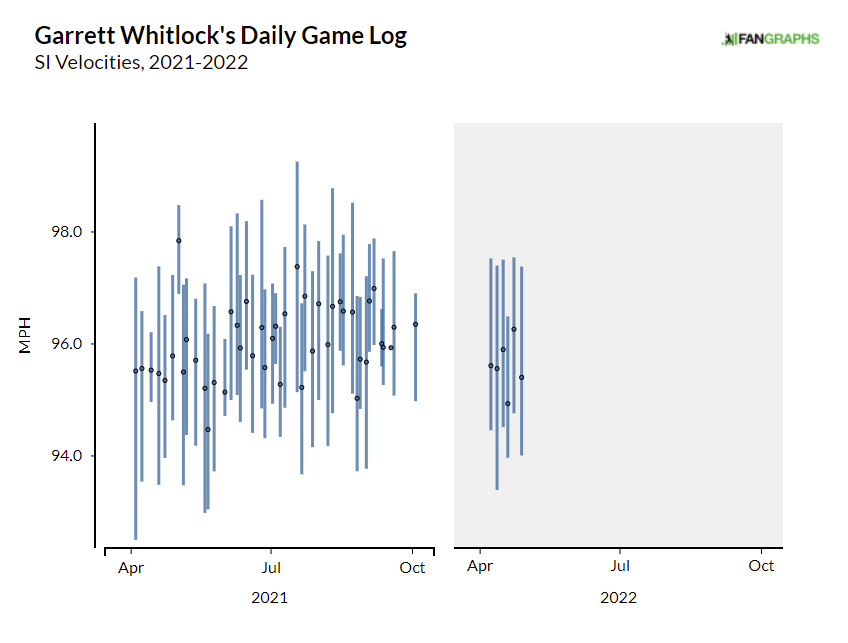 With tons of arm-side run, he's able to run the pitch to the outer edge of the plate against left-handed batters and under the hands of right-handed ones. With excellent command of it to both sides of the plate, Whitlock has been able to really lean on it as the foundation of his repertoire. And the results haven't disappointed. Last year, the whiff rate on the pitch was an excellent 21.8%; it's up to 33% this season, the fifth highest rate among all sinkers thrown at least 50 times this year.
With three excellent pitches, plus a rarely used but effective four-seamer, Whitlock has a repertoire that should be able to withstand working through an opponent's lineup multiple times. Some of the escalating clauses in his new contract are innings based, which means he'd need to be a regular member of the rotation to really max out his potential earnings from him. It appears as though the Red Sox are now prepared to give him a lengthy opportunity to stick in the rotation.
Of course, the question now is how this transition will affect the bullpen hierarchy. Boston's relievers have put up a 3.98 ERA so far this year, a mark that sits in the bottom third in the majors. last year, Matt Barnes earned the lion's share of the save opportunities for the Red Sox, though he really struggled late in the season and hasn't been nearly as effective this year. Hansel Robles and jake diekman are the other two high-leverage options currently in the 'pen and neither has been all that reliable. There isn't a reliever currently on the roster who has the same skill set Whitlock brought as a multi-inning, lockdown option to deploy in the sixth or seventh inning of a close game.
You could also argue that the Red Sox need for Whitlock to fill a spot in the rotation is greater than their need in the bullpen. With Chris Sale still sidelined with his rib injury and Houck now tied to Hill as a piggybacking tandem, Boston needed someone to fill a hole until their ace returns from his injury. After three strong starts against tough opponents, Whitlock has shown he's capable of providing just as much or more production as a starter as he had been in the bullpen. If he keeps this up, he might just stick around even after Sale returns.