A Houston-area development group is planning a $25 million mixed-use project for Youngsville that would include the city's first hotel.
XAG Group is looking to build over 100,000 square feet of office, retail and restaurant space along with a hotel that will have 80-85 rooms across 14.4 acres near the Youngsville Sports Complex, CEO and partner Nathaliah Naipaul said. It will also include green space in a town center-type of design.
The group bought two parcels of property at the corner of Chemin Metairie Parkway and Savoy Road back in December for a combined $2.325 million, land records show. Company representatives announced the project at the Youngsville Chamber of Commerce's annual banquet this month.
The city has needed a hotel for some time with the arrival of the sports complex, Mayor Ken Ritter said. The nearest hotels are the three in Broussard.
"It's necessary and it's overdue," he said. "We continue to attract hundreds to thousands of visitors annually to our sports complex, some from international destinations. We knew that it wasn't going to be a matter of if but a matter of when."
XAG Group has not signed a contract with a hotel brand but has interest and is "waiting to get it done," Naipaul said. It will give families a chance to walk to the sports complex instead of driving, she said, and will help add to the number of rooms in the Lafayette area that often get booked when large tournaments are being held.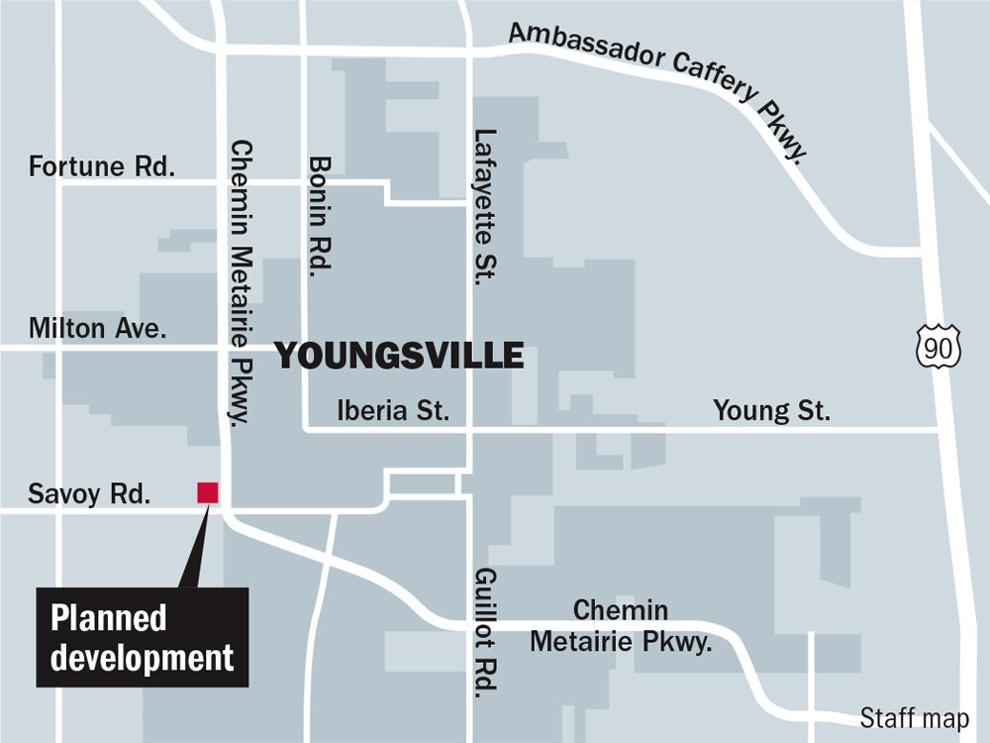 "In our experience in visiting Youngsville, it's hard to find a room close by to stay overnight," she said. "It's always filled. Once there was a softball tournament happening when we visited, and there were no hotels available throughout Lafayette."
The project will include spaces for offices, restaurants, shops and other businesses, and the company is hoping to land a high-end family restaurant, Naipaul said. The green space will tie the development together, she noted, and be a space to host events or provide a space for children to play.
The company, which has built convenience stores and shopping centers in the Houston area, is seeking tenants for the development. A time table for construction has not been determined.
"I admire the energy of the mayor and all the plans he has for this town," Naipaul said. "We love that he cares about his community of him, and you can truly feel his passion for him. Looking at this town and all its potential and seeing how united the people are, we are very excited to work with the community creating jobs and supporting the local businesses."
The development would be the latest project to be built on the city's south side as projects have spilled in that direction from Sugar Mill Pond. The 164-unit Sugar Mill Villas opened last year, and the city recently announced its plans to expand the sports complex and add 46.5 acres across Détente Road for four high school/college baseball fields, an amphitheater and other amenities.
Acadiana Renaissance Charter Academy, housed just north of the sports complex, recently purchased another 16 acres to expand its footprint, land records show. The school could grow it even more in the future, Ritter said.
"I do think that (area is) definitely a hot spot for us right now," Ritter said. "But my mantra has been as Youngsville grows, we grow together. I want to make sure we're investing in all areas of our city so no one is left behind. I'm of the opinion that the right development is good at any location. It doesn't have to be around the sports complex."
.