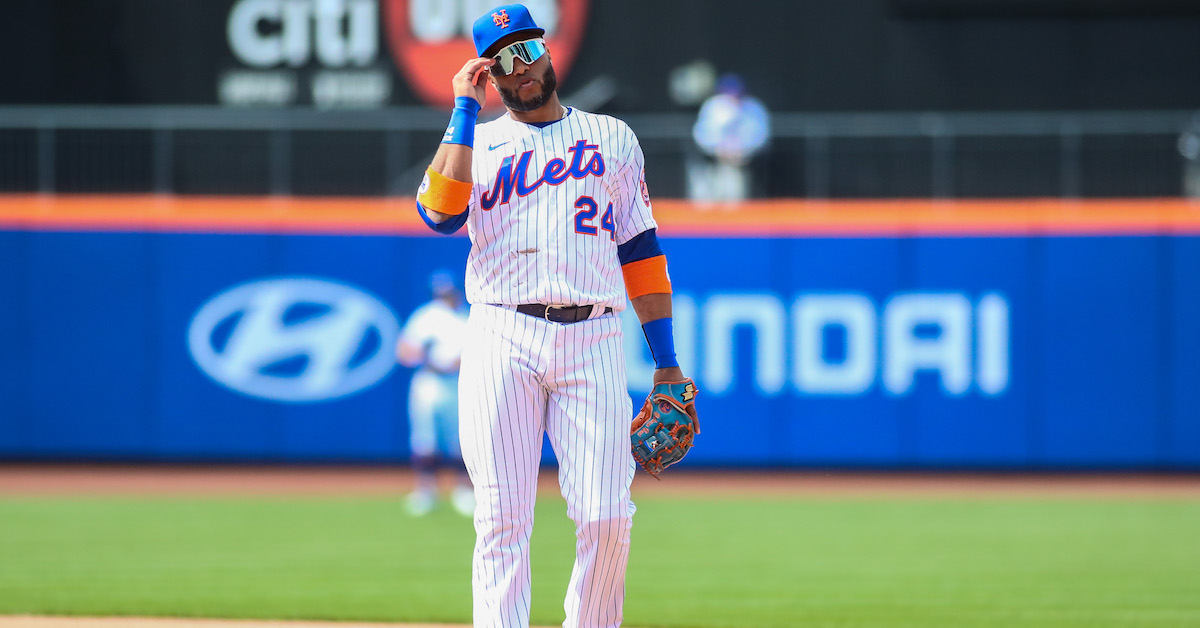 Forced to squeeze their roster down to a 26-man limit on Monday, the Mets decided to say goodbye to veteran second baseman Robinson Cano, designating him and the two years left on his contract for assignment. Canó, who will turn 40 this year, struggled greatly in 12 games in 2021, going 8-for-41 with just a single extra-base hit, a solo homer off of Zach Davis. While he could theoretically be claimed on waivers before being released, any team adding him by this route would commit to the $40 million still owed him through 2023, which is, let's just say, unlikely to happen.
The decisions both to play Canó and to cut him this year were surprisingly easy. He did play very well the last time we saw him, in the COVID-shortened 2020 season, hitting .316/.352/.544 with 10 homers for a 142 wRC+ and 1.3 WAR in just 49 games. The problem is that the last time we saw him was 2020 thanks to a PED suspension that Novemberhis second positive steroid test under MLB's drug-testing regimen and one that cost him the entire '21 campaign.
I wasn't really worried about the suspension itself; I've spent the last decade trying to find some kind of discernible pattern, short- or long-term, of over- or under-performance for the group of players busted for PED use and have yet to find anything actually useful. But what did worry me was the missed time coming on the back of an artificially short season for a 39-year-old player playing a premium defensive position. While Canó was quite good in 2020, his 2019 season was by far his worst season in a long time.
While I think it made perfect sense for the Mets to open the season with Canó and see what he had left, there was no particular reason for them to give him a very long leash. Jeff McNeill is playing well, and the team should roll with him starting most games at second. And with the need to cut the roster from 28 to 26 players, who would have been a better idea to cut? louis guillorme has been a rock-solid role player during the last few years, and even if he were struggling, he's the backup shortstop. Dominic Smith hasn't had a great start, but he's contributed more than Canó has. optioning Tyler Megill or Drew Smith would have been completely absurd.
Mets owner Steve Cohen certainly ought to know a sunk cost when he sees one, and there's no psychological need to salvage the Canó trade, as it was something this régime inherited from the Wilpons and former general manager Brodie Van Wagenen, not a transaction that they masterminded. The Mets expect to contend this year and are in first place for three games, so this is a team that ought to be more interested in certainty rather than chasing the chance that Canó turns things around.
Is Canó done? I would not necessarily shovel that last bit of dirt onto his career quite that quickly. Neither ZiPS (.254/.298/.393) nor Steamer (.249/.298/.385) are all that optimistic, but the margin of error here is absolutely huge. For a team that's actually desperate at second base or a lousy one that can afford to absorb such a risky player, there's still an argument for Canó as an addition to the roster. It wouldn't be preposterous for the White Sox, for example, to take a look given that the combination of Leury Garcia and Josh Harrison has been positively dreadful at second.
Whether or not Canó bounces back to close out his 10-year, $216 million contract, there's no denying that his career is coming to an end. And overall, it's a sad one, particularly given the friendly rivalry between Canó and another of the great second basemen of that era: Dustin Pedroia. Which player was the better second baseman was a hotly debated topic a decade ago and a fun part of the usual Red Sox-Yankees rivalry. While I don't want to name any names, a couple of huge fans I know on Twitter spent a long time arguing that question, frequently roping me in the conversation to settle a particular aspect of the argument.
It would have been crazy to say in 2012, but I assume now that neither will make the Hall of Fame. Knee injuries basically ended Pedroia's career at age 33, and his counting numbers are likely too light for him to get 75% of Hall voters on his side. Canó's numbers are closer, but he's unlikely to reach 3,000 hits. More importantly, if the first PED suspension didn't slam the door shut in Cooperstown, the second one certainly did. While I intend to check Canó's box someday, I'm confident I'm in the minority.
ZiPS Career Projection, Before 2017
| Player | BA | OBP | SLG | AB | R | H | 2B | 3B | HR | RBI | BB | SB | PAHO+ | WAR |
| --- | --- | --- | --- | --- | --- | --- | --- | --- | --- | --- | --- | --- | --- | --- |
| Robinson Cano | .296 | .343 | .477 | 10774 | 1515 | 3188 | 642 | 43 | 406 | 1581 | 710 | 64 | 121 | 64.7 |
| Dustin Pedroia | .295 | .356 | .426 | 8314 | 1190 | 2449 | 512 | twenty | 180 | 939 | 785 | 160 | 108 | 56.9 |
Is Robinson Cano done? Maybe, maybe not. The Mets rightly decided that they didn't want to be the ones who needed to find out the answer to that question.