A Russian diplomat publicly condemned the war in Ukraine in a rare post on social media Friday as the Russian invasion of the Eastern European country drags on.
Andrey Yakovlev, the consul general of Russia, posted the condemnation in Russian language on the verified Instagram account of the Consulate General of Russia in Edinburgh, Scotland. Though the account is private, a screenshot of the post has been circulating on Twitter in both English and Russian languages.
"I, the Consul General of Russia in Edinburgh, Yakovlev A. And, I categorically condemn the behavior of the military special operation of the Russian Armed Forces against the sovereign, independent state of Ukraine. I fully support any assistance to Ukrainian armed forces from EU countries," the translated post read.
However, the consulate appears to show a different stance on its official Twitter feed where it has retweeted posts by Russian officials making claims against Ukraine. For instance, the consulate retweeted a post in which the Russian Mission to the UN accused Ukraine in April of preparing "new provocation in order to accuse Russia of alleged war crimes."
The consulate also retweeted a post by the Russian Ministry of Defense that alleged that "all statements by kyiv nationalist regime about an alleged missile attack by Russia on the railway station in #Kramatorsk are untrue and are a provocation. Tochka-U tactical missiles are used by [Ukraine] Armed Forces only."
Meanwhile, the number of Russian people against the invasion of Ukraine has increased. Online polls conducted by the supporters of opposition politician Alexei Navalny showed the changing stance of Russians, according to a series of tweets that I posted in March. Newsweek could not independently verify the findings of these polls.
The polls, which were conducted between February 25 and March 3, found that 29 percent of 700 respondents said on February 25 that Russia was the aggressor when they were asked how they would assess the role of Russia in Ukraine.
However, by March 3, this number increased to 53 percent, while only 28 percent of respondents saw Russia as a "liberator."
Meanwhile, western officials recently floated the idea that Russia is set to formally declare war on Ukraine on Russia's "Victory Day" on May 9, according to Business Insider.
UK defense secretary Ben Wallace told LBC Radio on April 28 that Russian President Vladimir Putin has been allegedly preparing to send more troops to Ukraine.
"He's been … laying the ground for being able to say 'look, this is now a war against Nazis, and what I need is more people. I need more Russian cannon fodder,'" Wallace said. "He is probably going to declare on this May Day that 'we are now at war with the world's Nazis and we need to mass mobilize the Russian people.'"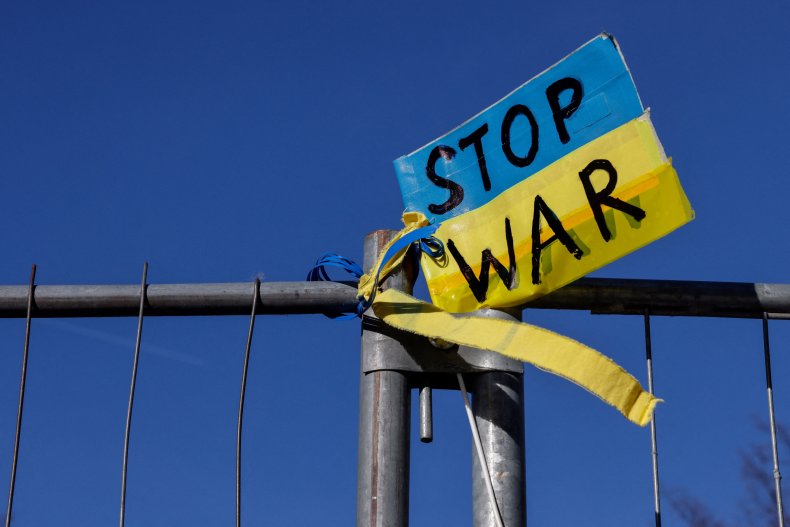 "To mass mobilize the Russian reserves is an admission of failure from a man who thought he would have got Ukraine in a couple of days," Wallace added.
However, Russia denied these speculations, calling it "nonsense" as it continues to refer to the invasion as a "special military operation," according to BBC News.
Newsweek reached out to the Russian foreign ministry for comments.